People arriving in the UK from abroad may soon be able to end their 14-day self-isolation early, as part of plans to be considered by a new taskforce.
Transport Secretary Grant Shapps said the taskforce will look at introducing a Covid-19 testing system for travellers to the UK.
People would have to pay for their own tests to avoid impacting NHS capacity.
Airline and airport bosses reiterated calls to replace quarantine altogether, with a comprehensive testing system.
The aviation industry has struggled with the drop in passenger numbers since the start of the UK's epidemic, with industry figures repeatedly lobbying for testing at ports and airports – something ministers have rejected.
Anyone arriving to the UK from abroad must currently self-isolate for two weeks, unless they have come from an exempt destination.
The plans to be considered by the Global Travel Taskforce include giving travellers the option of paying for a coronavirus test a few days after they arrive.
A negative result would mean people could end their quarantine period early.
The taskforce will also consider whether people could self-isolate before travelling abroad, instead of upon arrival.
If you were running an airline or owned a travel agency I don't think you'd be jumping for joy.
You would probably be relieved that the government has eventually done what you've been calling for for months and given a firmer commitment to testing, as a way to allow people to avoid quarantining for the full 14 days.
But Heathrow had a facility for taking passengers' saliva swabs ready to go in mid-August.
That facility now appears redundant because the government has rejected the scientific rationale behind testing passengers at airports on arrival – on the basis that asymptomatic people who recently caught the virus could still produce negative results.
And even though ministers have made their firmest commitment yet to privately-funded testing, travel bosses will, to some extent, be pulling their hair out that key details still haven't been worked out.
Namely, after how many days of quarantine would someone be able to pay for a test? Between five and eight days is what the government is considering.
Ultimately the travel sector wants testing now, not a taskforce on testing.
Announcing the plans, Mr Shapps said: "The current measures at the border have saved lives. Our understanding of the science now means we can intensify efforts to develop options for a testing regime and help reinvigorate our world-leading travel sector.
"This new taskforce will not only help us move towards safer, smoother international travel as we continue to battle this virus but will also support global connectivity – helping facilitate more Covid-secure travel whilst protecting the population from imported cases."
Mr Shapps and Health Secretary Matt Hancock will lead the taskforce to consider:
How a testing regime for international arrivals could be implemented, including exactly when passengers would be tested
How to raise consumer confidence to support the recovery of international travel
What "innovate testing models and other non-testing means" could boost travel
The group is expected to report back to No 10 in November.
Officials from Scotland, Wales and Northern Ireland will all be involved in the taskforce's work. But as health matters are devolved, decision making and implementation may differ across the four nations.
While industry figures called the announcement a "step in the right direction", many also reiterated their belief that a testing programme should replace quarantine altogether.
A spokeswoman for British Airways added: "Although every step to improve the current situation is welcome, we do not believe quarantine is the solution. The best way to reassure people is to introduce a reliable and affordable test before flying."
Karen Dee, chief executive of the Airport Operators Association – a trade association for UK airports – said: "We believe that from a health perspective a testing regime can be far preferable to just relying on quarantine."
And a Virgin Atlantic spokesperson said: "Removing quarantine is the only way to truly open up the skies and enable the UK's economic recovery to take off."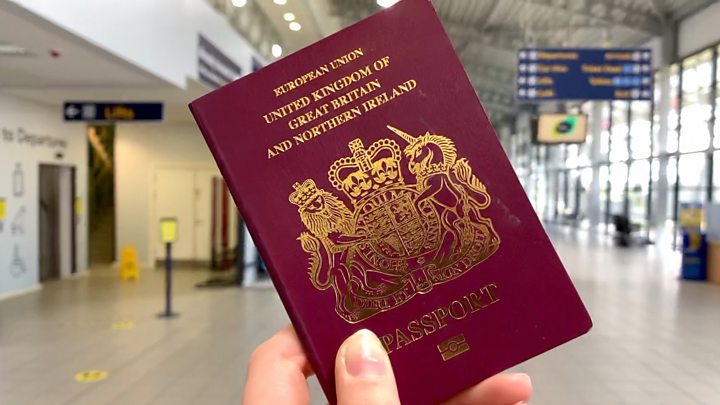 Many industry figures also called for the taskforce to bring in changes – rather than just recommendations – within weeks.
A joint statement from the CEOs of Easyjet, Heathrow, Manchester Airports (MAG) and Virgin Atlantic said a testing regime must be in place by early November because without "rapid" action, "the UK will fall even further behind our competitors and the economic recovery will fail to get off the ground".
MAG – which owns and operates Manchester, London Stansted and East Midlands airports – confirmed it would begin discussions with unions over potential job losses as a result of the impact of the pandemic.
CEO Charlie Cornish said the end of the government's furlough scheme meant "we have to consider the number of roles that we can sustain at our airports".
Shadow transport secretary Jim McMahon said the government had been "incompetently slow to react".
"They've had months to set up a taskforce, months to look into airport testing and months to sort out the flaws of their quarantine proposals," the Labour MP added.
He also called for a financial support package for the aviation sector.